Installing compilers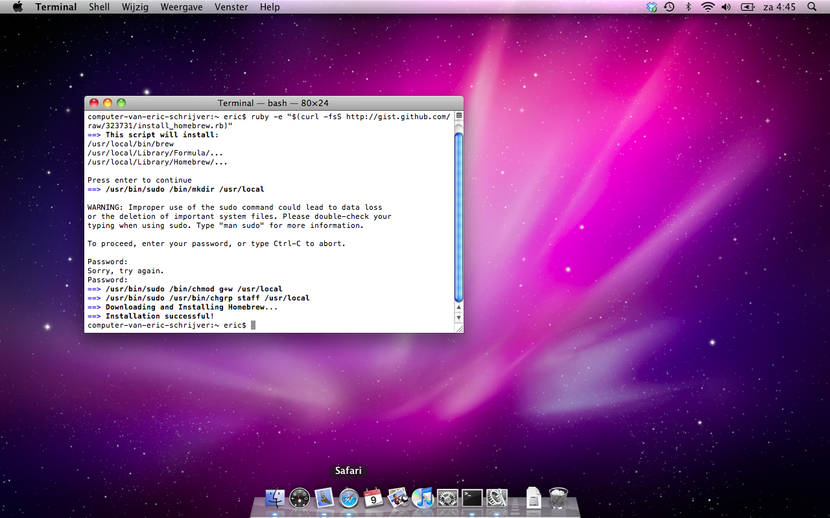 We will install homebrew to make it easy to install software. One of the upsides to installing homebrew is that you are also forced to install a compiler. A compiler is, like glit says, part of this lifestyle: there are many other ways to install software than through homebrew, but most of them require a working compiler setup.
At the KABK we installed Homebrow on a variety of Macs. The instructions differ slightly from version to version.
For homebrew, you need an Intel Mac with OS X 10.5 (Leopard) or newer. To install, we do as instructed on the website: there is a command
ruby <(curl -fsSk https://raw.github.com/mxcl/homebrew/go)
Copy and paste it into a terminal window and press enter.
When the command has run, homebrew tells you to install XCode and Xquartz.
To download XCode for 10.5 or 10.6, you need to become a registered Apple Developer. The site makes it look like you need to pay, but you can register for free.
For 10.5 you can download Xcode 3.1.4
For 10.6 can you download Xcode 3.2.6
For 10.7 and 10.8 you can download XCode 4 from the App store. This will put a program in your Applications folder that will install XCode. Run this too.
With XQuartz you install a compatibility layer for Unix software that requires a graphical user interface. Follow the instructions on their website.
With all this installed, you can install your first unix software package: git
brew install git
Git is needed to keep your homebrew installation up to date. And now you are all set!